Zoom is a great video conferencing tool, used by many. Zoom conference calling is pretty mainstream in this age and era. In a time where the Earth is nothing more than a global village and everyone is connected through their screens, it's normal for people to encourage learning and timely compliance through calls conducted on the internet.
With the increased use of zoom calls in all kinds of industries, it's only natural that the need for zoom conference call transcription will be felt. Here are some reasons why should you get your zoom conference call transcribed.
In simple words, conference calling connects people from different places of the world and brings them together on one platform whether it's for work, training, academics, or communication. And these calls go on for hours, let's say you need to review some information and collect key points from the call. You would have to listen to the call recording from the very start. Imagine the amount of time you would be wasting.
That's Why Should You Get Your Zoom Conference Calls Transcribed?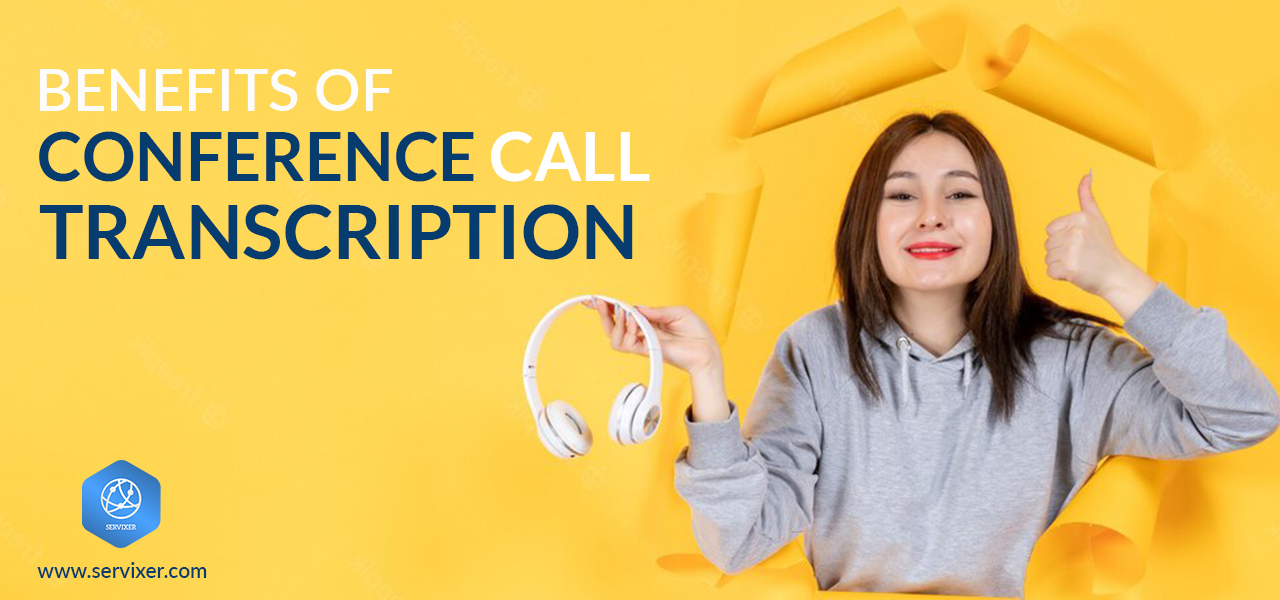 Quality Transcription Service is within your budget now as Servixer is excited to offer this with unmatched affordability.
Benefits of Conference call transcription
There are several obvious benefits of business transcription tools.
There are unlimited benefits to having your zoom conference calls and zoom meetings transcribed. Just knowing that there will be records for you to refer back to after the zoom meeting will help you focus more on the meeting.
By getting more out of your in-person and online meetings – and referring back to what you discussed in them easily – you can also reduce the number of meetings you need to schedule.
Research proves that 45% of team members feel pressured by the number of meetings they have to attend every week. And the fewer meetings they attend, the more efficient the few ones that are held are.
Below are some of the vast benefits of having your conference calls transcribed have;
Find Essential Information Quickly
Conference calls are a game-saver when it comes to training the whole team, brainstorming ideas, and conducting meetings with clients and management. But given that an average zoom conference call lasts from 45-60 minutes, listening back to the recordings for pieces of information may eat up a lot of precious time.
Having a transcript of your calls is convenient since you can search by keywords or sort by the speaker if you need to refer back to a particular point in your conversation.
Not only does this save time, but it also means that important details especially action items and tasks that require a follow-up, don't get overlooked.
Improve your Website's SEO
SEO stands for Search Engine Optimization. SEO is a process of optimizing your website so it ranks higher on search engines like Bing and Google and therefore, attracts more traffic to your site which is more likely to buy your products or services. Study shows that more than 70% of all online experiences start from a search entered into the search bar of Google or Bing. This just goes to prove how big of an impact SEO has on the success of a company.
One way to improve your SEO strategy is to upload your transcriptions to your company's website. Having longer content like your zoom meeting transcripts on your site gives you a better chance of including more keywords in your website which will help increase your SEO score and your website will rank higher.
Apart from that, it will allow potential customers to have an inside look into how your company operates, promoting trust within your client base.
A Unique Approach to Employee Evaluation
Conversational analytics and KPIs provide valuable insight into employee performance and productivity. Managers can see the number of calls an agent takes per day, how many they miss, how much time they spend on the phone, and other essential information. But the data isn't always enough to tell the full story.
Reviewing transcripts of your meetings allow you to get a more subjective look at your employees' behavior and helps pick out details that numbers alone can't tell.
During meetings, a customer service representative might share excellent ideas and offer important feedback despite having a lower first-call resolution rate than you'd like. A call transcript can be a unique and effective way to identify leaders within your organization who would otherwise go unnoticed.
In the same way, you can find out who isn't speaking up in your team so you can encourage them to share their ideas for the future and evaluate what they are engaged in.
Increased Transparency
When you have sharable call transcripts on hand, you can easily email them out to stakeholders, board members, customers, and other employees. About 66% of today's consumers say they look for transparency in brands when choosing which companies to do business with. Not only does this improve your company's reputation, but it also makes your consumers feel more valued and included in your daily operations which will help increase trust and loyalty within your customer base.
This level of transparency allows you to prevent or quickly clear up miscommunications and mishaps because transparency and compliance go hand-in-hand.