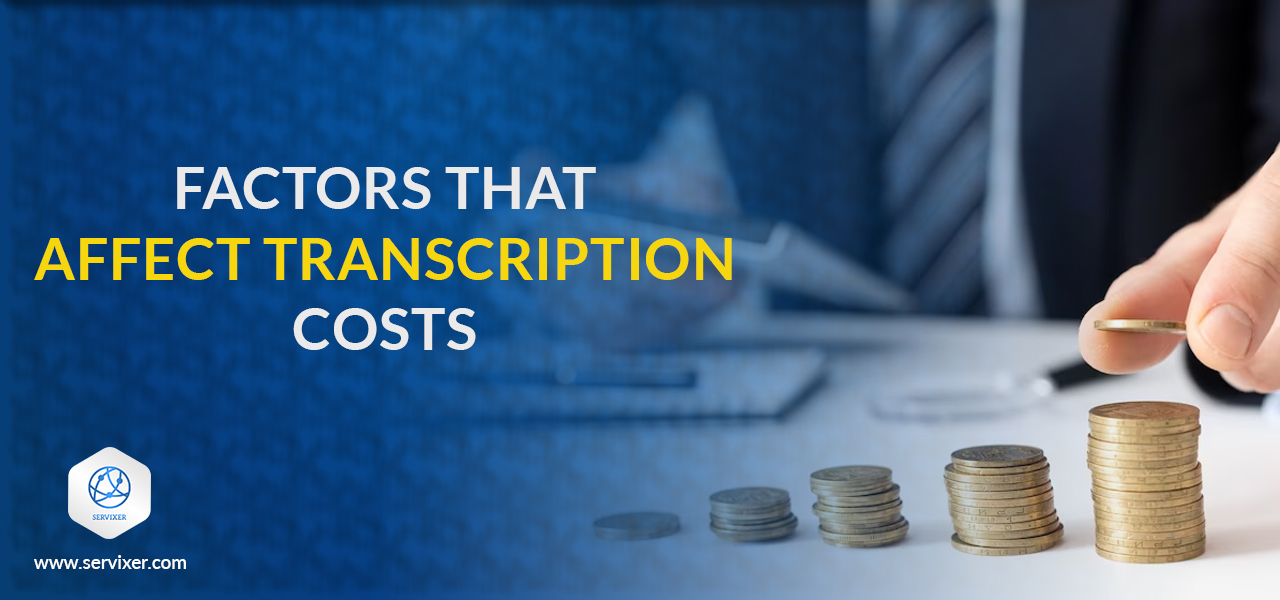 Factors that affect transcription costs
Not all kinds of audio is easy to transcribe, some takes more time than others. Here are some of the main reasons why transcription companies charge a higher rate for audio files:
Low audio quality; distorted, muffled, too quiet, a large number of speakers or speakers with accent, heavy background noises and several other factors that lowers the quality of audio files.
Extra requirements from clients, such as; timestamps, true verbatim transcription or special formatting
Rush turnaround times of 24 hours or less than that.
Specialized types of transcription – such as medical, legal, academic, technical, and financial – may cost more than general transcription projects as they require research of the field and the availability of professional transcriptionists.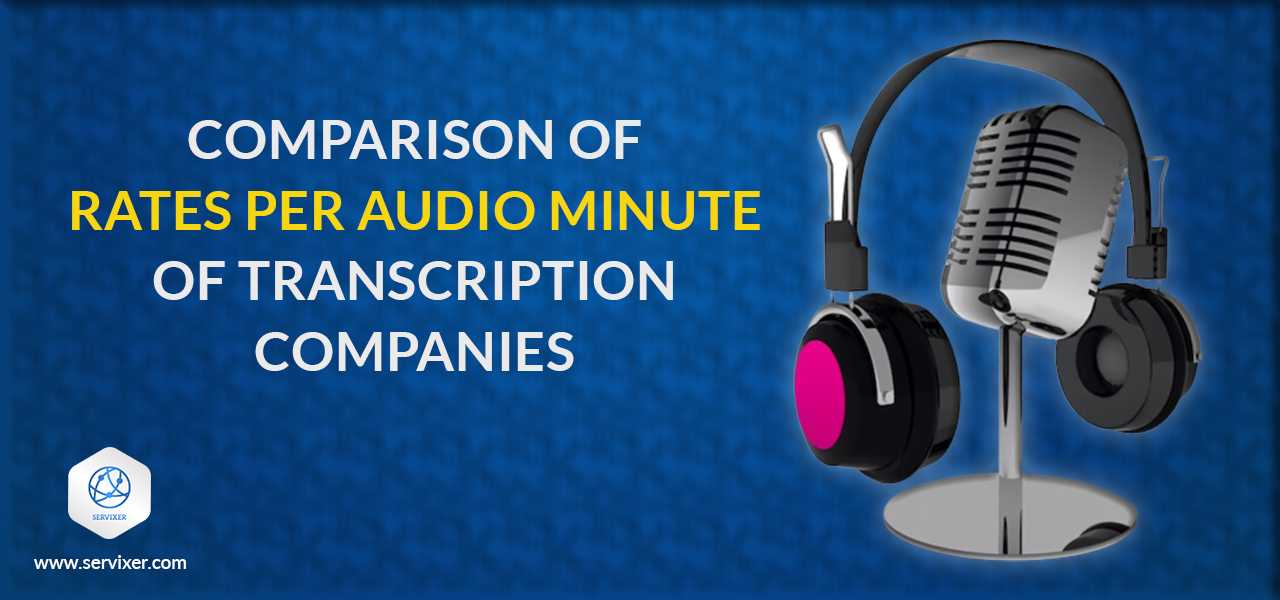 Comparison of rates per audio minute of transcription companies
Servixer
They have an efficient team of human transcriptionists that work diligently to ascertain 99% accuracy. They also offering corrections so if you are not satisfied with your transcript, they will review and re-review it until you are satisfied with the end result.
Rate:
They offer human transcripts starting from 0.70$ per minute of audio. They charge additional if the audio you have provided is poor quality and contains background noise or speakers with accents.
Rev:
Rev provides a range of different transcription services. It offers video transcriptions, audio transcriptions, translations, captions and subtitles for all kinds of audio and video files.
Although, Rev is not known to be the fastest transcription providers, they offer accurate transcriptions at very reasonable rates. It provides a few hours of turnaround time for easy transcripts. The unique feature of Rev is that they have human transcribers that use automated speech recognition so that you get the best of both worlds.
Rates:
Rev charges 1.25$ per minute for human transcripts and 0.25$ for automated transcripts with 80% quality guarantee.
Scribie
Scribie also offers human and manual transcription services and provides transcripts for all kinds of budgets. Scribie gives 99% quality assurance with 36 hours turnaround time provided by human transcriptionists. They also are very keen on their quality, so if in case you are not satisfied with the completed transcript they have provided. You can get a free review and corrections with a quick turnaround time of one day.
Rate:
Scribie charges 0.80$ per minute for manual transcription and 0.10$ per minute for automated transcription. They charge an additional 0.50$ per minute if the audio you have provided has background noise, if the audio is unclear or if the speaker has an accent.
Otter.ai
Otter offers automated transcriptions to their users at very affordable rates.  With Otter, you can transcribe audio instantly using and it's a great service to use if you are looking to transcribe a live meeting or interview at the cheapest price. It uses powerful tools like the Ambient Voice Intelligence to ascertain their clients get the best transcripts for their files.
Rate:
Otter offers two type of plans for individuals; the basic and the Pro plan. They offer 600 hours of free transcription for file duration of 40 minutes in their basic plan. For the Pro plan, they charge 8.99$ monthly and offers upto 6000 hours of transcription.
GoTranscript
If you want to transcribe a file that has background noise, is low quality or many different speakers with accents, GoTranscript is what you should employ
Rate:
GoTranscript provide transcripts at the affordable price of 0.86$ per minute of audio for every 5 days delivery project.
GMC Transcription
GMC transcription is another site that offers human and automated transcripts. They offer services of video transcriptions and Spanish transcription as well. They convert paper documents into electronic documents. Although their transcription quality is very high with zero to no error rate, they have much slower turnaround times.
Rate:
GMR Transcription charges $1.25 per minute of audio but the rates increase based on the number of speakers, audio quality, and specified turnaround time.
| | | | |
| --- | --- | --- | --- |
| Sr. No | Transcription Providers | Rates per audio minute of automated transcript | Rate per audio minute of human transcript |
| 1 | Servixer | – | 0.70$ |
| 2 | GoTranscript | – | 0.86$ |
| 3 | Scribie |  0.10$ | 0.80$ |
| 4 | GMR Transcription | – | 1.25$ |
| 5 | Rev | 0.25$ | 1.25$ |